Synctunes mac is an iTunes to Android syncing application that allows you to synchronize your music, podcasts and videos to your android device over WiFi.
Please use the following link to install it on your macbook
Synctunesmac for Macbook
Use either of the following link to install free or paid version on your android (if you've already installed on your tablet/phone then ignore it)
Synctunes mac free for android
Synctunes mac pro for android
After you've downloaded and installed synctunes mac on your macbook and your android, you can start syncing by opening synctunesmac from your macbook. For details you can continue reading this page further down to see how to make it work.
Tutorial
For iTunes to android wireless synchronization two apps are required
Synctunes mac app: Installed on android tablet/phone
Synctunesmac for macbook: Installed on macbook
Before starting synchronizing your music from iTunes to android make sure your macbook and android phone are both connected to the same Wifi network. Start Synctunes mac app on your android device.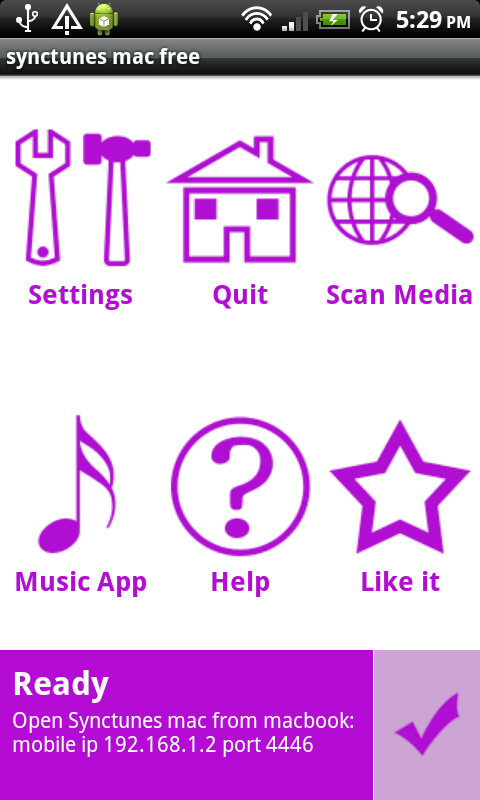 As you can see at the bottom of the app it shows that it is ready to synchronize. Its shows an IP address and port number. This IP address and port number is used to connect from Synctunesmac app to Synctunesmac android app. In this case the IP is 192.168.1.2 and port is 4446 in your case it may well be different. IP address is assigned by your router so IP address may be different for your android device.
Install Synctunesmac on macbook
Now it is time to install the Synctunesmac on your macbook where your iTunes library is present. Synctunesmac is completely free and the Installation on macbook is done only the first time you sync, for syncing music in future you only open the synctunesmac from your applications on macbook and sync easily with your android.
If you are reading these instructions on macbook please click on the link at the top of this page to download the Synctunesmac installer 
After successful installation you will see the following message.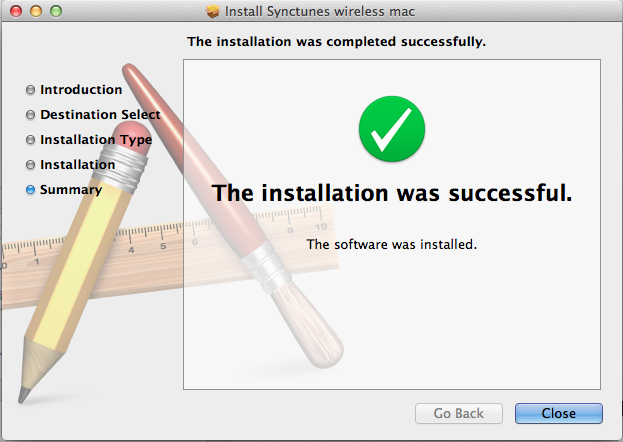 The nesxt step is to open synctunesmac app from your macbook applications.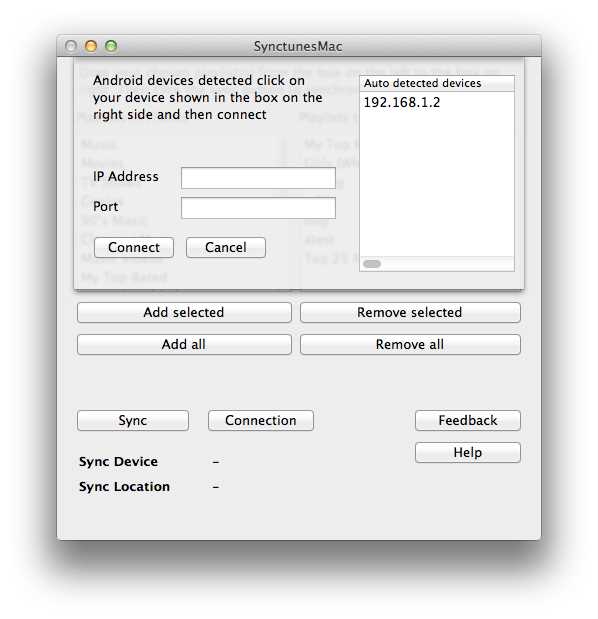 Synctunesmac app asks for the ip and port to connect to android. You can open the synctunes mac on your android and see the relevant ip and port. Type them in the synctunesmac and click connect.
Alternatively if synctunesmac auto detects your android device then it will show your device in the auto detected devices box. You can click that and then click the connect button.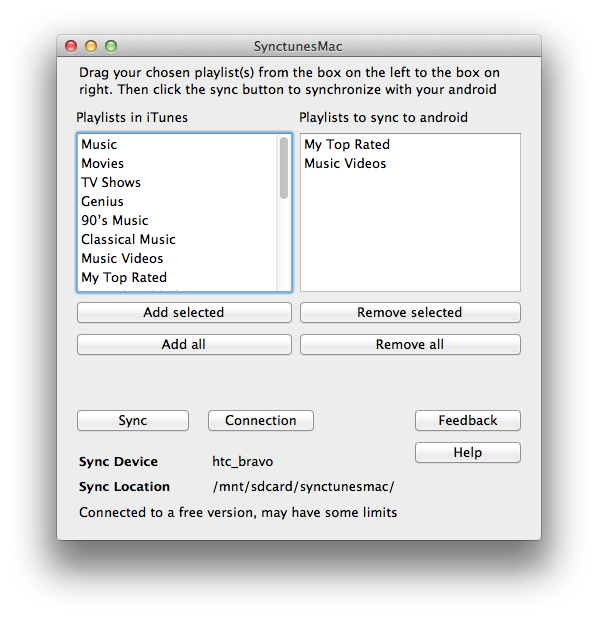 In the box on the left it will show your existing playlists as you have created in iTunes. You can drag and drop them to the box on the right side. Once you have drag dropped your chosen playlists, you can then press the sync button and it will start syncing your playlists and their music with your android device.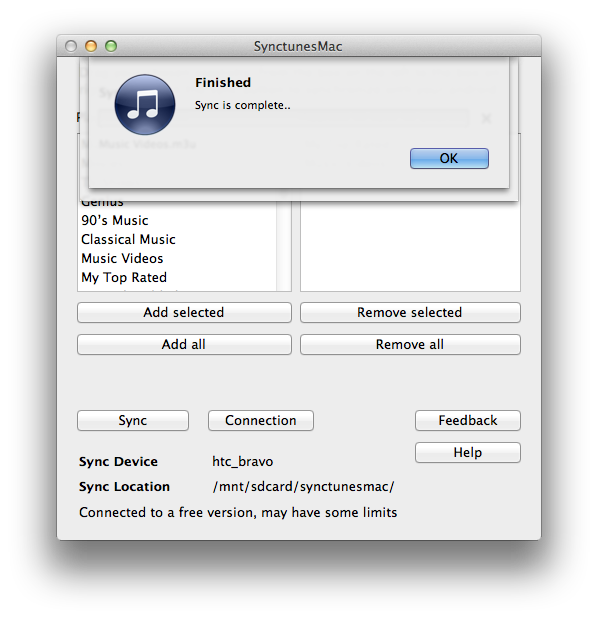 After sync is successfully compete the success message will be displayed. The sync can take a while for the first time but subsequent syncs will be much quicker. Please ensure that every time you sync you keep your playlists in the box on the right side. If you remove them from the sync box and then sync with android, the playlists that do not show in the sync box will be unsynced from your android device.
When the sync is complete open android phone or tablet and you can use any music player of your choice to play your music. You can now quit/exit synctunes on your macbook and android.